Recommended Neighborhoods
*** THIS PAGE IS INCOMPLETE. PLEASE EMAIL MARIA AT THEHOLLYWOODHAWKS@GMAIL.COM
IF YOU WOULD LIKE TO WRITE A RECOMMENDATION TO BE POSTED HERE ***
Maria Skeels
Recommendations: Miracle Mile/West Hollywood/Studio City/Burbank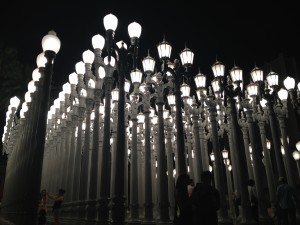 I have lived in the Miracle Mile area since I moved here, and I love it. As a freelancer, I have worked as far out in all directions as Van Nuys, Downtown LA, Redondo Beach and Santa Monica. Given my proximity to the freeway and the fact that I'm usually going away from traffic when I've worked in these areas, my commute is rarely longer than 30 minutes. But, even more rare is having a commute that is longer than ten minutes. I love it. Miracle Mile is very central and there is a lot to do. I am a ten-minute walk to LACMA, a three-minute drive to The Grove, and a five-minute drive to Beverly Hills or West Hollywood. There are tons of restaurants, museums and bars nearby and I can even get to Runyon Canyon for a little urban hike in ten minutes. Also, as a single woman, I feel very safe in my area and that's really important to me. I'm also lucky because there is gated parking under my building, so I don't have to worry about parking blocks away late at night. That said, it CAN be more expensive than other areas, so for recent grads it may be a tad out of your price range. Also, if you don't like living in a somewhat dense area, this might not be the neighborhood for you. I'd also recommend West Hollywood. It's safe and lively. Of course with that, it can be one of the more expensive neighborhoods. For areas that are usually more affordable (but still super safe, central and close enough to plenty of nightlife), I'd recommend Studio City and Burbank.
 
Chris Martin
Recommendations: Northeast Los Angeles
LA has so many distinct neighborhoods that it can be very hard to know where to start looking for a new place.  Lots of factors can come in to play when determining if a neighborhood is right for you: distance to work, cost, parking, transportation, etc.  There is no right or wrong answer, and just remember if you hate it you can always move! 
I have spent the majority of my years in Los Angeles living on the "east side", specifically a neighborhood called "Eagle Rock".  I love this part of town (East of Hollywood and North of downtown) and I would recommend it to anyone landing in LA for the first time.  There are lots of great little neighborhoods in this area: Los Feliz, Silverlake, Echo Park, Atwater Village, Glendale, Eagle Rock, Highland Park, Mount Washington, Pasadena.  All of these areas have lots of apartments and rental units that are reasonably priced.  Each neighborhood similar but that all have their own unique vibe, some parts are super hip with lots of cool coffee shops, restaurants, bars, boutiques, theaters, galleries etc.  In my opinion the east side is much more laid back and less hectic than the "westside".  Parking restrictions are less common on the east side, traffic jams are less frequent and less severe.   This area is very central for the LA region and there are lots of convenient freeways to get you just about anywhere in a reasonable amount of time: Hollywood, Burbank, Studio City, Downtown, etc  The biggest drawback is that you're in for a little bit more of a drive to get to the west side especially at rush hour.  If you're moving to LA with dreams of going to the beach everyday, this may not be the area for you. 
One final piece of advice for your apartment search: if you can help it, don't move here with a pet (especially big dogs).  I love dogs like crazy, but many apartments won't allow them or will charge extra.  This is not a deal breaker, but having a pet will make it more difficult for you to find the right place.
 THIS PAGE IS INCOMPLETE! IF YOU'D LIKE TO WRITE A RECOMMENDATION, PLEASE EMAIL MARIA!