A Note From the Founder
When we started this group, our mission was two-fold. First, we wanted to create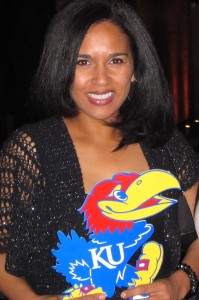 a community for Jayhawks working  in the entertainment industry to network, collaborate, support and learn from each other. Second, we wanted to serve as a direct link between academia and professional life by educating, mentoring and providing opportunities to current KU students.
And, in a nutshell, that's what this group is all about.
However, my vision goes beyond those two main goals. In the past, I've joked about wanting to become the "Crimson and Blue Mafia" in this industry, but I'm sort of serious. I want our members to be a powerful force in "the biz" and visible ambassadors of KU. At the same time, I want to continue to function as a soft place to fall and instant family for Kansas graduates, many moving far from home to follow their dreams. And, finally, I want Jayhawks to get some R-E-S-P-E-C-T! I want employers and co-workers to say, "Oh! So, you're a Kansas graduate! Awesome!" instead of asking, " So, you went to Kansas? Have you ever gone cow-tipping?"
And even beyond all that, I want our group to gain such a reputation that people assume all Jayhawks are talented, smart, hardworking go-getters who are also KIND human beings…because, in my experience, that is usually the truth and that's a combination worth celebrating!
So, if you are new to our group… WELCOME!
If you've been active since the very beginning…THANK YOU VERY MUCH! Your positive and supportive energy is why this group has been successful. I'm so proud of this group mostly because I'm just so darn proud of each of you.
And, if you're just checking things out, please don't hesitate to e-mail me with any questions. I think Hollywood Hawks are special, so if you are seeking such a networking community, please join us!
Rock Chalk,
Maria Skeels